SMILEPET VET DENTAL
VETERINARIAN SUPERVISED
NON-ANESTHETIC DENTAL CLEANING SERVICE
FOR YOUR ANIMAL COMPANIONS
EASY ACCESS TO ONLINE APPOINTMENTS 24/7
WE ALWAYS HAVE YOUR DOG'S BEST INTEREST IN MIND!
PETS THAT ARE LARGE (OVER 50 LBS) AND STRONG, ANY OVERLYANXIOUS OR UNCOOPERATIVE PETS, WILL NEED TO BE DONE WITH LIGHT SEDATION, IF THEIR HEALTH AND AGE PERMITS.
THE SEDATION IS CHARGED INDEPENDENTLY BY THE VETERINARIAN , AND RUNS $35-100 DOLLARS DEPENDING ON THE SIZE OF THE DOG.
ANTIBIOTICS IF DEEMED NECESSARY BY THE VET , ARE DISPENSED FOR AN EXTRA FEE AND ARE APPROXIMATELY $25.00.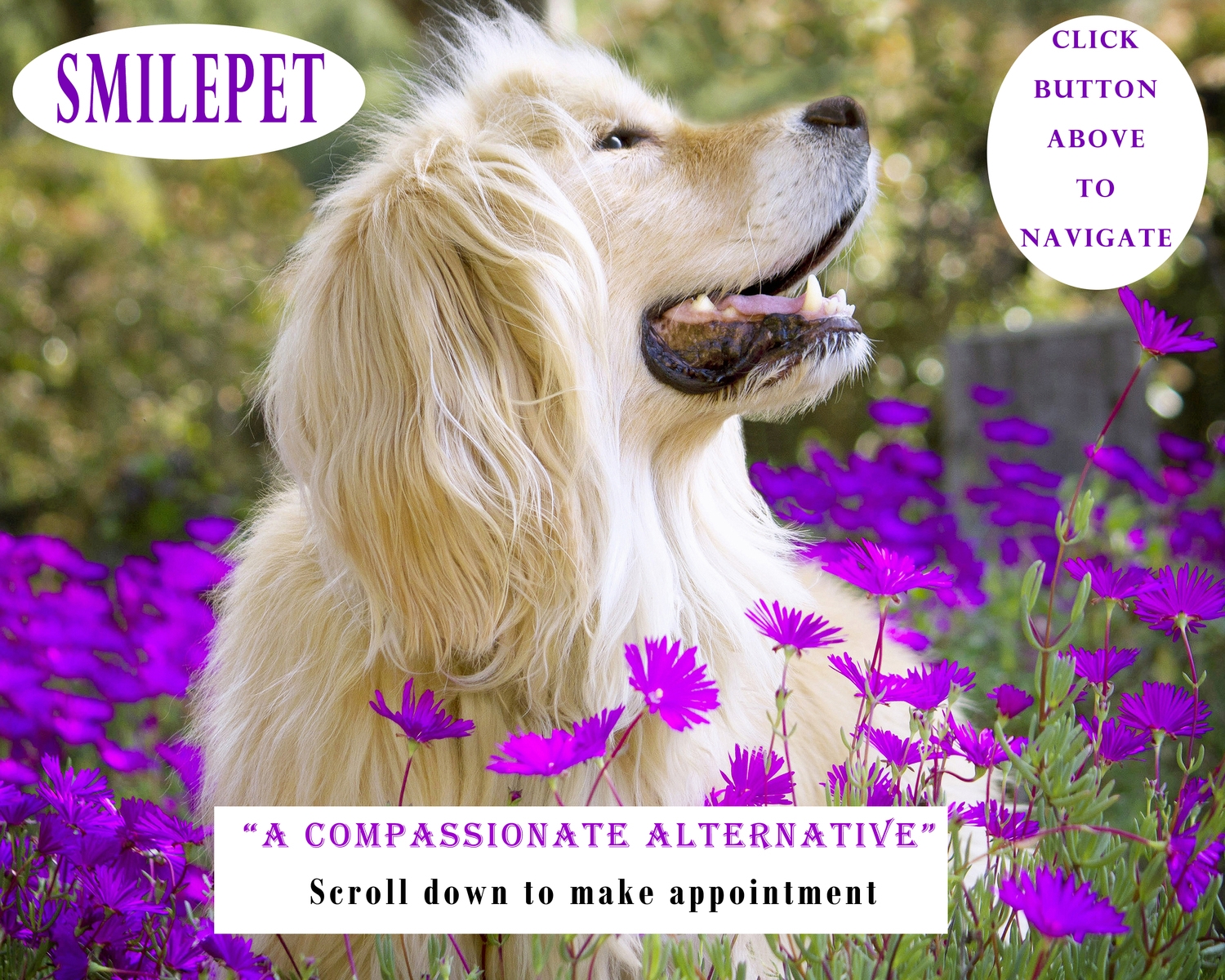 HERE ARE STEP BY STEP DIRECTIONS ON HOW TO MAKE AN APPOINTMENT
1)RIGHT CLICK ON THE BOOK NOW ICON ABOVE!
2)RIGHT CLICK ON NON -ANESTHETIC DENTAL SERVICE CLINIC$165.00
NOW YOU WILL SEE ALL 3 OF THE LOCATIONS CURRENTLY AVAILABLE.
3)RIGHT CLICK ON THE ONE YOU WOULD LIKE TO GO TO.
YOU WILL THEN SEE THE NEXT AVAILABLE DATE AND TIMES.
4)RIGHT CLICK ON A TIMEAND FOLLOW THE PROMPTS!! 5)THE FINAL STEP SHOWS YOUR CHOSEN APPOINTMENT DETAILS AND A CONFIRMATION NUMBER (DON'T FORGET TO CLICK CONFIRM IN THE RIGHT HAND CORNER AFTER YOU HAVE GONE THROUGH THE PROCESS
IT'S THAT EASY!
YOU WILL BE ASKED TO LEAVE YOUR CREDIT CARD INFORMATION ON OUR SECURE ENCRYPTED SERVER, TO HOLD YOUR APPOINTMENT . YOUR CARD IS NOT CHARGED.
WE PREFER PAYMENT BY CASH OR CHECK , IF YOU NEED TO USE YOUR CREDIT CARD, PLEASE BRING IT WITH YOU TO BE SWIPED AT THE APPOINTMENT. WE HAVE A 24 HOUR CANCELLATION POLICY FOR FULL REFUND.
OR E MAIL (PReferred) SMILEPETUS@GMAIL.COM
OR CALL US FOR ASSISTANCE
TOLL FREE 866-628-9745
LOCAL 760-751-2842
we are ONLY WORKING OUT OF 3 LOCATIONS NOW..TWO IN ENCINITAS AND ONE IN PT. LOMA. THESE ARE THE ONLY LOCATIONS WHERE YOU WILL BE ABLE TO BOOK NOW AND RECIEVE A DENTAL CLEANING FROM KATHY KLEIN OF SMILEPET